Walk on the Edge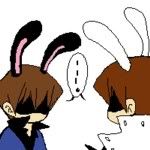 ~ Mein Harem ~




















Please Link Me!

https://myblog.de/reilein

Gratis bloggen bei
myblog.de


"Because you drive me mad when you´re here and you drive me mad when you´re not. Because I can tell you things like "Get out" and "Leave" but you never do.
Because all the shit you´re gonna tell me afterwards is that you love me, unfeeling bastard that I am ..."
Yuki zu Shuichi ("Gravitation")


"It wasn't a 'please may I' kiss, either. It was a 'surrender, give me all of yourself' kiss."
Zitat "An Argument with Seto Kaiba" von Shella (FF.net)


"The greatest thing you´ll ever learn ... is just to love .... and to be loved in return .."
Aus Tsumis Blog. Eine Liedzeile aus dem "Moulin Rouge" Soundtrack


"Father ... you´re so tough and proud, hard and cold like a rock. But still ... deep down your heart beats like mine does. I know you feel - I´m your son. I´m your son and I will always love you."
Trunks über Vegeta (Dragonball z)


"Kokoro no Yami ni ..." (In der Dunkelheit meines Herzens ...)
Titel eines der unveröffentlichen Kapitel aus Yamatos FF "Walk on the Edge"


The redhead from before turned and addressed Seto,"Are you his friend?"

"Uhh, no," Seto said, not really paying her any attention.

"Okay, are you his brother?"

Seto stopped as he was about to walk away,"Nope."

"Cousin?"

He shook his head.

"Any type of family member?" the nurse's blue eyes were beginning to narrow with impatience.

"I should hope not," Seto replied off handedly.

"A random guy off the street?"

The blue eyed teen looked indignant but said,"No."

"Okay...lover?" she asked curiously.

Seto fumbled over his words, and a slight blush spread over his face,"NO WAY! Are you completely insane!"

She winced,"Okay, I get it! Geez! What the hell are you then?!"

Seto looked at her in a very nasty way,"I'm a figment of your imagination."

"Ugh! I hate my job!!"
Zitat aus "Honey" von Imigo (FF.net)


"Bow down to your Master, Dog!"
Seto Kaiba zu Joey Wheeler (Yu-Gi-Oh)


"Then he would be doing it for ME." Mokuba said with surprising fierceness. "All of my life, ni-sama has always done things for ME. It has been his reason for everything and it's killing him." Mokuba's eyes got suspiciously bright and he used the back of his hand to wipe at them clumsily. "Most of the time I can't find my older brother anymore…the old Seto, he's almost gone…I don't want him to go away. I don't want him to disappear inside the cold and untouchable Kaiba, so he needs to do this for himself. He needs to find reasons to live for Seto and not for Mokuba…can't you understand that?"
Zitat aus "Poles Apart" von Moonraven (FF.net)


"Listen kid, it's already opened, so I can't take it back either way. But, I'll throw in a free pair of bondage bracelets if you leave me alone. You look like you're into that kind of stuff."

Jou put his hands and his hips and huffed, "And how the hell would you know?"

"It's a gift. I can tell just by looking at people what their kink is," the man shrugged, gesturing over at something behind Jou's shoulder. "Take that 'spiked wonder' for example. He likes to wear women's underwear and be spanked with a paddle."

"Ex—excuse me?" Yugi blushed as he realized the man was referring to him.
Zitat aus "Sugar and Spice" von Satanic Mechanic (ff.net)


Für einem Moment wirkt es, als würdest du die Kontrolle über den Porsche verlieren, er gleitet mit singenden Reifen über den nassen Boden, wir schlingern...

Ich denke: vielleicht sterben wir. Das komische daran ist, es erschreckt mich gar nicht mehr. Ich habe das in unserem Leben schon zu oft gedacht.

Seit es uns gibt, sterben wir andauernd fast.

Aber dann hast du deinen schnellen Wagen wieder im Griff - und dich selbst ebenfalls.

Du bekommst kaum die Zähne auseinander. Du sagst, und ich erkenne, dass es das einzige ist, was ich von dir dazu hören werde:

"Ich weiß nicht, wo von du sprichst, Mokuba."

Und das ist es auch schon. Deine Stimme ist kühl, und sie duldet keine Widerrede.

Natürlich weißt du, wovon ich spreche.

Ich senke den Kopf. Aufwallende Tränen stechen von Innen in meine Augen, wie Nadeln. Aber ich weine nicht...weil ich weiß, was es mit dir anstellt, wenn ich weine. Es ist die eine Sache, die du nicht sehen kannst.

Also starre ich ebenfalls aus dem Fenster. Und während wir wie auf einer Geisterfahrt durch die Dunkelheit preschen, kommt mir etwas in den Sinn:

Du bist wie dieser Wagen, der nachts auf einer dunklen, verlassenen, nassglitzernden Strasse fährt. Pfeilschnell, unaufhaltsam - aber ein kleiner Augenblick der Schwäche, ein Moment der Unachtsamkeit - und diese mächtige Maschine würde Straucheln, und mit 100 Sachen in ihr eigenes Verderben rauschen.

Und ich verstehe, dass du nicht straucheln darfst. Und dass ich nicht erwarten kann, dass du schwach wirst. Das ist etwas, was du nicht tun kannst - auch nicht für mich.
Zitat aus "Sieh nicht hin" von EvilMokuba (Animexx)


There aren't any heros and not so many villains. Just choices.
s